Bambi (1942)
Whilst lacking the grandeur of Snow White, Bambi remains a timeless classic adored for its simplicity, boasting stunning animation, endearing characters, a wonderful score and the harrowing gunshot scene that every child remembers.
Beauty and the Beast (1991)
This magical tale as old as time was the first ever animated film to receive an Oscar nomination. And deservedly so. Engaging, masterfully drawn and beautifully delivered, Beauty and the Beast captured the audience like no other, with the live action remake opening in cinemas later this month.
The Lion King (1994)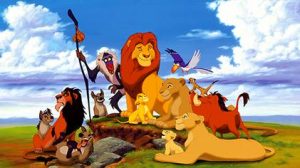 An indisputable masterpiece, The Lion King epitomised Disney's rich renaissance of the 90s by combining an exceptional cast with an emotive story and a memorable score.
Mulan (1998)
Subverting gender roles and providing young girls with a princess worthy of respect, Mulan was both progressive, particularly for Disney, and hugely entertaining. This spirited adaptation of a Chinese legend revelled in its colour and vivacity, and of course, its kick ass heroine.
Frozen (2013)
An instant sensation and a continuing phenomenon four years after its release, Frozen simply made more impact on contemporary society than any other animated film.